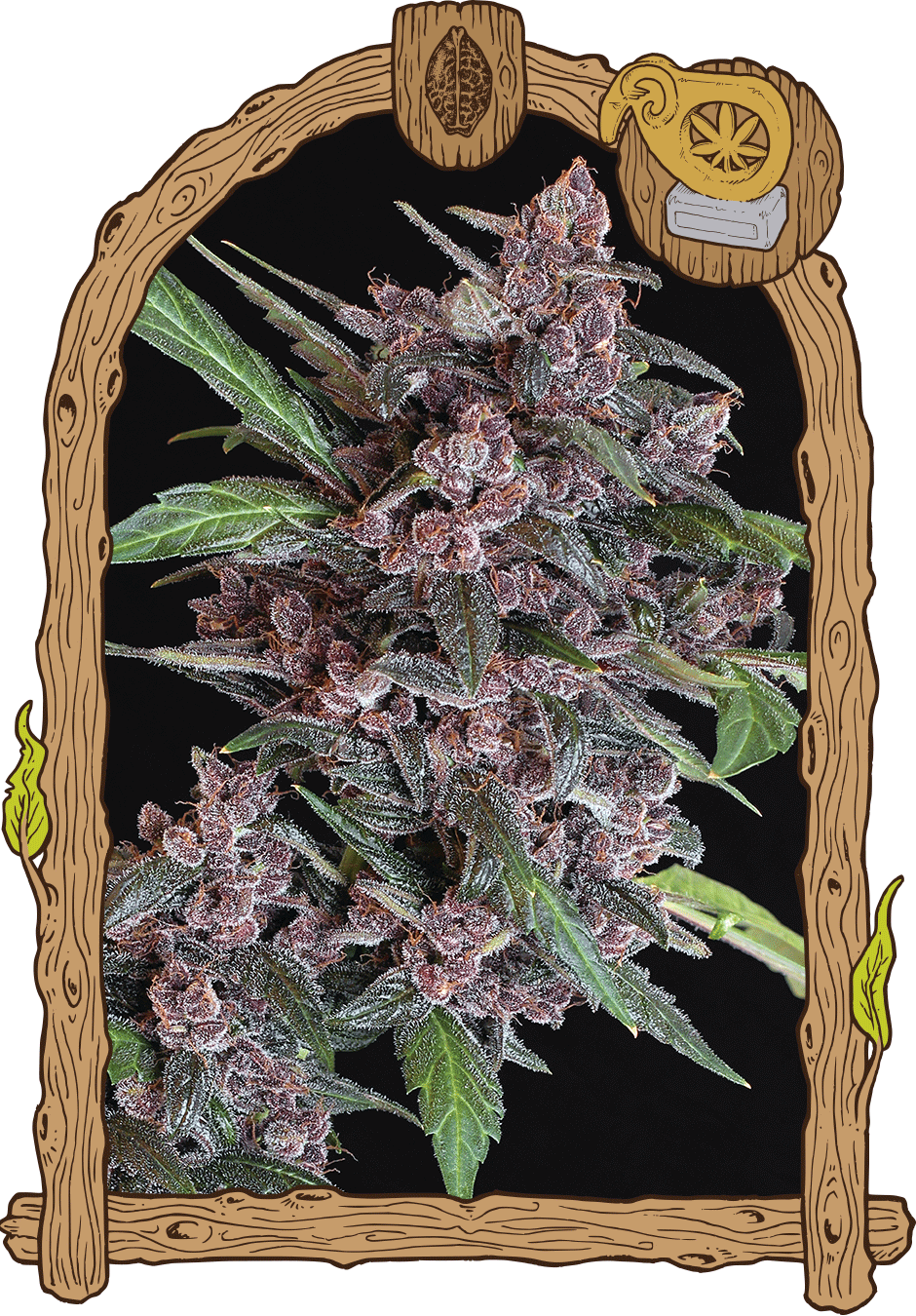 Effect

Creative

Genetics

(Black Haze Auto x Skunk Auto) F4

Yield

400 - 450 G/M2

Potency

High

Flowering time

8 - 9 Weeks
Black Lemon Auto Strain Description
This auto-flowering variety is the result of a selection of a strain of Black Haze Auto crossed with the Skunk Auto variety that we have already used in previous auto-flowering genetics.
The main characteristic of this hybrid consisted of a marked citrus aroma that was expressed with greater intensity in those individuals who showed flowers of dark colors, that we decided to preserve in the successive generations that gave origin to this variety.
When cultivating, this Black Lemon strain unfolds into an auto-flowering variety that stretches a lot, close to a meter of height and with high production, around 450 grams per square meter, where all the individuals acquire dark shades as the flowering advances and will be ready for Harvest in 9 weeks from its germination.
Regarding the aroma and flavor of its flowers, they are of a marked citric character as we have already mentioned previously. To all this we must add a complex effect, being more active at first, indicated for creative and social activities, to be more physical in its final part.
Frequently Asked Questions
What is the Black Lemon Auto strain?
The Black Lemon Auto strain is an excellent autoflowering variety. The strain is a cross between two THC-dominant hybrid strains, Black Haze Auto and Skunk Auto. The parent strains share many genetic similarities with the Ruderalis/Indica/Sativa variety, which reflects in their offspring.
The result is an Indica-dominant hybrid strain that's pretty easy to grow – even if you are a beginner. Moreover, the strain is packed with high THC content, an ideal creativity booster.
Black Lemon Auto, available as feminized seeds, is characterized by its high load and production. The plant grows quite tall and is laden with resin-rich buds, from the bottom to the top.
Genetics: (Black Haze Auto x Skunk Auto) F4
THC Content: High
Sex: Feminized
What is Black Lemon Auto's growing phase?
Considering the strain retains its genetic similarity, it is perfect for growing both indoors and outdoors.
Indoor growers will find Black Lemon Auto easy to grow. In addition, the strain grows fast indoors and is ready for harvest in 63 days from germination.
Black Lemon Auto does exceptionally well outdoors, even in unhospitable temperatures up to 30 degrees Celsius. You might need to protect it against strong winds; otherwise, the plant is resistant to weather issues.
Unlike other strains, Black Lemon Auto is well protected against fungi and can be grown under hot, humid conditions. The plant is ready for harvest in October when grown outdoors.
What yield can I expect?
The plant is tall when grown under favourable conditions and can reach a height of 120-150 cm. The yields are moderate unless you take control of the stretching and feed accordingly for higher yields. Growers can expect yields of 400-450gr/m2 under close supervision during the entire growth cycle.
Black Lemon Auto carries an excellent bud/leaf ratio; however, the plant is a late finisher with yields expected into late October if grown outside.
While the plant is highly resistant to heat and light stress, excess heat can slow down bud growth during the flowering stage. Moreover, it can directly impact the bud's potency and aroma.
What about this Black Lemon strain Appearance and Aroma?
The Black Lemon Auto strain is a vigorous marijuana plant with long branches. The leaves stretch a lot during the flowering phase. Growers will also notice a dark purplish hue during this phase.
The plant is well aired out, allowing THC-laden buds to cover the entire plant from top to bottom. These frosty, bright crystals glisten instantly when any light source hits them.
Coming to its aroma, the plant offers a complex blend of earthy-mossy fragrance mixed with a marked citric character. Some users might also describe the smell as pungent wet paint. This characteristic aroma makes the Black Lemon strain ideal to grow with discretion.
How about its tasting notes and effects?
Black Lemon Auto is famous for delivering a characteristic, peculiar flavor like its parent strains. The taste carries fresh citrus notes, which are intense when smoked.
The effects of this THC-rich strain are intense, cerebral, and body-like high. This feeling is long-lasting, producing a happy, uplifting sensation. Consumers will enjoy a complex effect, which is increased alertness at first. This makes it ideal for use when indulging in creative and social activities.
The effects are more physical during the final part. Overall, Black Lemon Auto strain ensures a balance between a creative head and an active body, allowing consumers to relax without losing their composure.