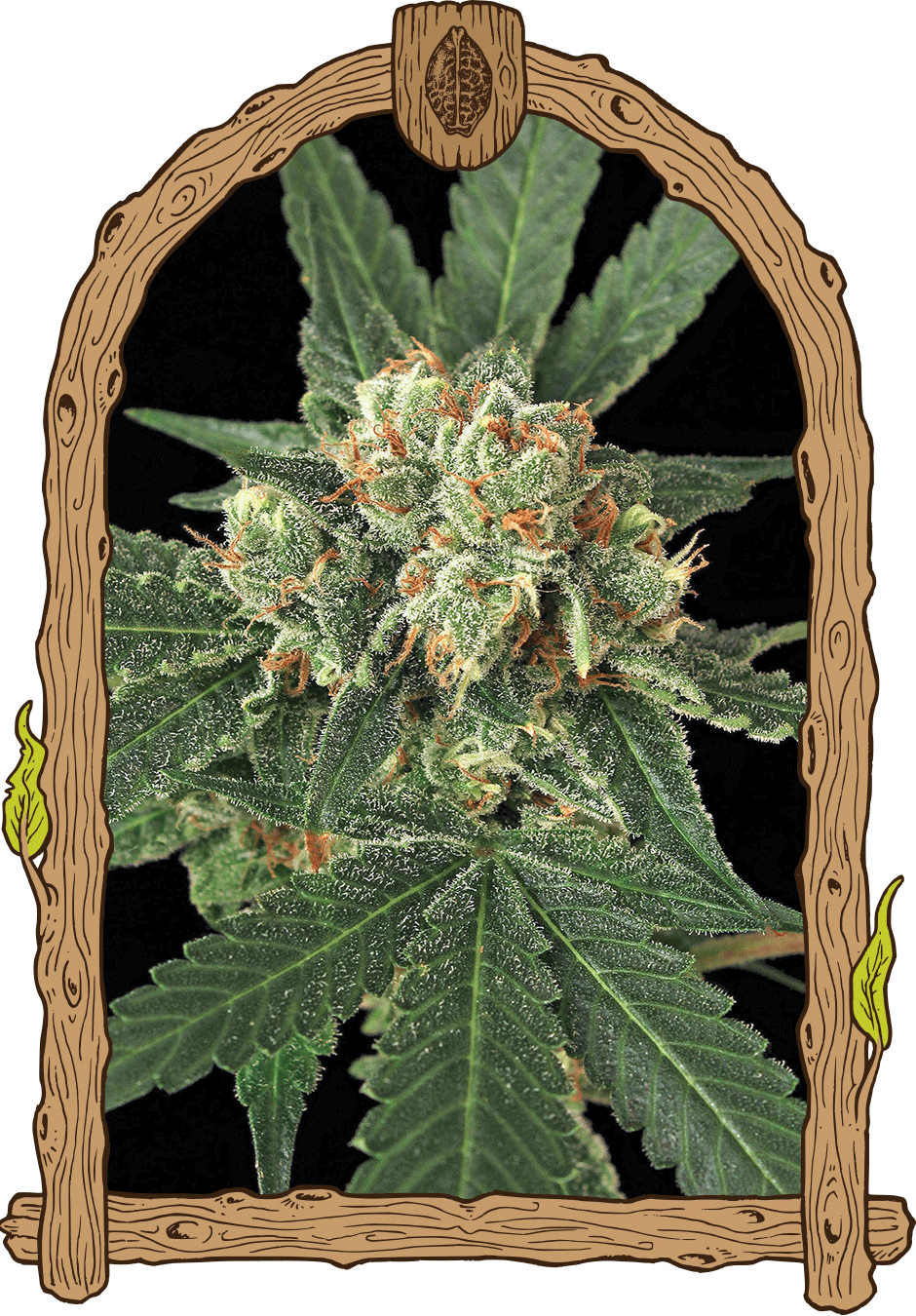 Indica / Sativa

70% Indica /30% Sativa

Effect

Relaxed

Genetics

Gorilla Glue #4 x (Black Domina x Blueberry)

Yield

400 - 450 G/M2

Outdoor Harvest

Harvest October

Potency

High

Flowering time

9 Weeks
Blue Monkey Strain Description
Feminized variety resulting from the crossing of Gorilla Glue # 4 and a hybrid consisting of a cross of Black Domina x Blueberry that we have worked for many years and now we have this cross due to the stability and variety of aromas that it brings to its descendants. Its branched flowers are crowded with each other along the branches, but without generating large central flowers, which is compensated by the high density of these flowers, which may require support at the end of flowering.

In terms of its smell, predominate aromas that we would define as "sweet chemist", where the essence of Gorilla Glue is maintained with the addition of the fruity aromas typical of the father that is used. Its effect is strong at the body level with great relaxation, making this variety an appropriate hybrid for smokers looking for a medical strain.

Appearance and Growth Pattern
Blue Monkey distinguishes itself with a unique growth pattern, characterized by branched flowers crowding each other along the branches. Unlike other strains, it does not generate large central flowers, but compensates this with a high density of smaller flowers. Towards the end of the flowering phase, these dense flowers may require support due to their weight. This characteristic growth pattern, combined with its beautiful array of colors, make Blue Monkey a distinctive presence in any cultivation setup.
Aroma and Flavor Profile
When it comes to aroma and flavor, Blue Monkey sets itself apart from other strains. It carries a predominant "sweet chemist" aroma that beautifully blends the earthy essence of Gorilla Glue #4 with the fruity undertones introduced by its Blueberry x Black Domina parent. The result is a tantalizing bouquet of scents that can ignite the senses and elevate the cannabis experience to a whole new level.
Effect and Therapeutic Benefits
Blue Monkey is renowned for its potent relaxing effect. As an Indica-dominant hybrid, it offers a strong body high that can help unwind the tension and stress from a long day. This profound relaxation makes Blue Monkey a favorite among medical cannabis users seeking relief from conditions like chronic pain, insomnia, and anxiety.
In addition to its relaxing properties, the strain can provide a subtle cerebral stimulation, a trait inherited from its Sativa lineage. This balanced mix of effects ensures an all-round therapeutic experience that can cater to a wide array of needs and preferences.
Growing Information
Blue Monkey boasts a flowering time of approximately 9 weeks, with outdoor harvest typically falling in October. It's an intermediate-level strain to grow, with growers needing to provide support for the densely packed flowers as they mature.
Despite not producing large central flowers, Blue Monkey is a decent yielder, offering 400 - 450 grams per square meter. Its propensity for high resin production and compact growth pattern makes it a favorable choice for cultivators looking for quality over quantity.
Summary
Blue Monkey is a remarkable cannabis strain that manages to encapsulate the best traits of its parent strains, Gorilla Glue #4 and the hybrid of Black Domina x Blueberry. Its unique growth pattern, distinctive "sweet chemist" aroma, and potent relaxing effects make it a standout strain in the vast cannabis landscape.
Whether you're a cultivator seeking a stable, high-yielding strain, or a consumer looking for a unique sensory experience coupled with potent therapeutic benefits, Blue Monkey is a strain that's worth considering. As an Indica-dominant hybrid, it delivers a powerful body high that can provide a much-needed break from the stress of daily life, making it a preferred choice for many medical cannabis patients.