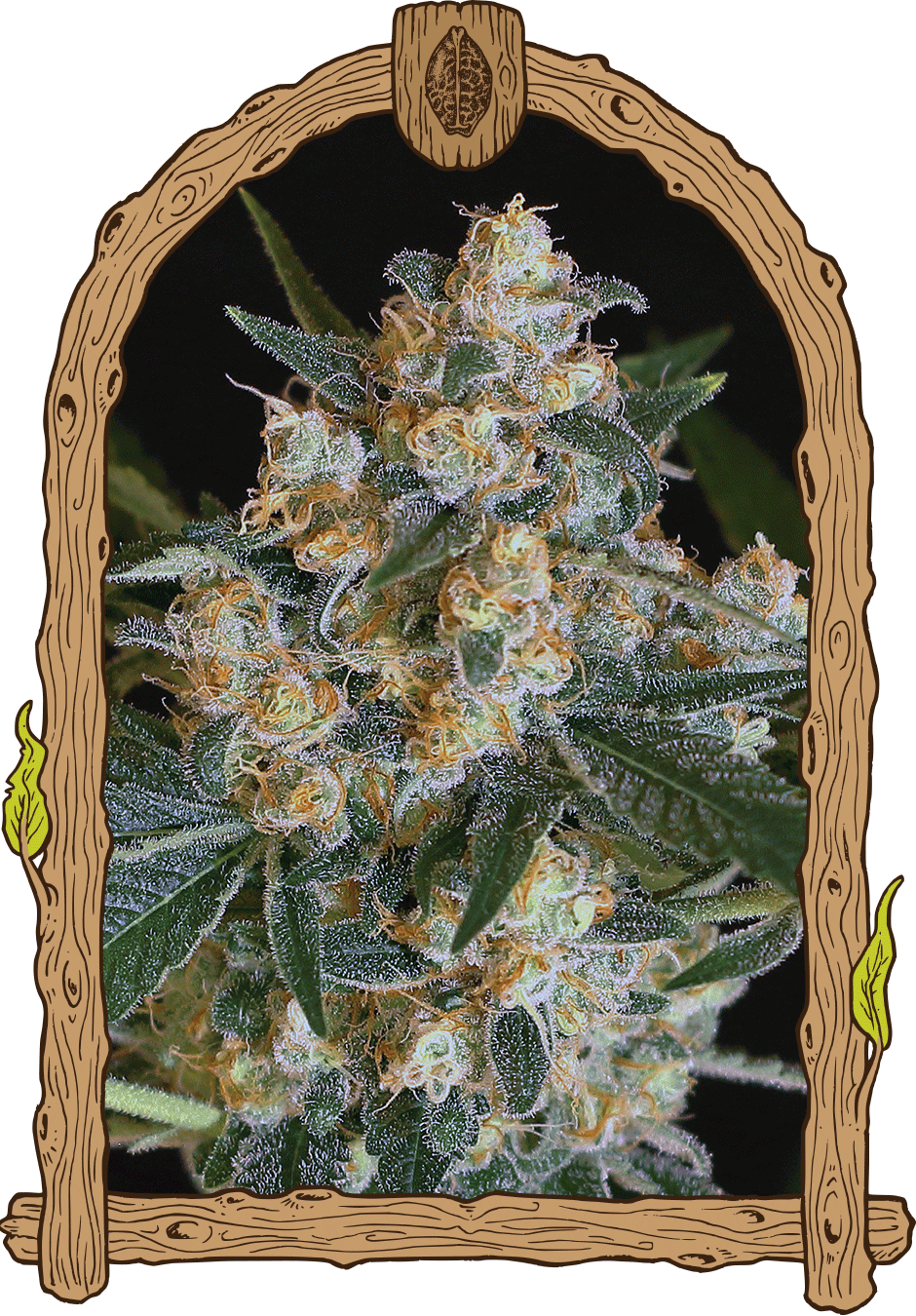 Indica / Sativa

45% Indica /55% Sativa

Effect

Relaxed

Genetics

American Indica x NYCD

Yield

450 - 500 G/M2

Outdoor Harvest

Harvest October

Potency

Medium

Flowering time

8 Weeks
Lemon Candy Strain Description
The Lemon Candy strain, A predominantly Sativa hybrid, is born from the crossing resulting from our own selections of an American indica and NYCD. The result is a hybrid with a strong structure, medium yield (can reach up to 400 grams per square metre without much effort).
When growing this plant, we must pay special attention to any light stress situation, as we have observed that this affects it, and often stops the formation of flowers, considerably diminishing production. The Lemon Candy strain is a variety where a complex aroma predominates, where citrus scents mingle with sweet part brought the crossing by the mother, and this may vary from one individual to another, where at the end of the flowering period some sweet skunk touches appear above the aromas.
Lemon Candy strain effect is of medium strength, being active at the start, staying until the end, where the party Indica part appears providing a physical low that continues until the end of the effect. We recommend extractions with this variety, not so much for the yield we can gather, but for its quality, where all these characteristics are accentuated and over time eventually becoming one of our favourite varieties when doing dry extractions.
Frequently Asked Questions
KushmasterD review
In today's medical cannabis strain review, we look closer at the hybrid cultivar Lemon Candy strain by Exotic Seed.
The more I learn about how my body and mind reacts to medicinal cannabis, the better I understand – and therefore I'm able to somewhat predict – the effect of certain strains before I even tried them. For instance, I thought that pretty much all sativa dominant strains cause me to feel even more anxious and nervous and therefore I focused on indicas. However, I then learned, just by experience, that I would get just as uncomfortable with certain indicas.
After some experiments, I determined that I'm best of with so called hybrid strains – to me, these are strains that are well balanced, ideally having a 50/50 ratio – or anything close enough to that – between their sativa and indica properties. Well, Exotic Seed did exactly that with the inception of their incredible Lemon Candy medical cannabis strain. It quickly moved into my All-Time Top 5 medicinal cannabis flowers. And it's not just me! But let's start with some basics around this masterpiece of a weed plant:
Overview and Characteristics of Lemon Candy by Exotic Seed
| | |
| --- | --- |
| Name of Cultivar: | Lemon Candy |
| Breeder: | Exotic Seed |
| Vendor: | exoticseed.eu |
| Type: | Feminised |
| Linage: | American Indica x NYCD |
| Grow Difficulty: | Medium |
| Medical: | Nausea, Pain, Stress, Anxiety, Headaches/Migraines |
| Flowering Time: | 8 Weeks |
| Yield: | ~400gr/square meter |
| Aroma: | sweet, citrus, earthy |
| Indica/Sativa/Hybrid | 45% indica / 55% sativa |
| Effect: | uplifting, relaxing, focused, balanced…tired |
| Strength: | Medium, VERY long lasting |
| THC: | not available |
| CBD: | not available |
| Type of High: | Clean, Clear, Long-Lasting, Phased, |
There is nothing available on Leafly about Lemon Candy. But I think this will change as this exquisite medicinal marijuana strain will gain more notoriety among patients and recreational users. And speaking of Leafly, please do not mistake the Lemon Candy for one of the many 'Lemon – so and so – strains' that you can find on their website and elsewhere. This one is distinctly different and much more up my alley.
The Effects of Lemon Candy – My Personal Experience
In the following I will share with you how the Lemon Candy affects me, both from a cerebral and physical perspective. That said, while I am much more relaxed these days compared to only a year ago, I know that certain cannabis strains can cause me to feel anxious and unsettled. Therefore, the Lemon Candy with its balanced indica-sativa profile was of special interest to me.
From a cerebral perspective, one thing stands out above all: the high is very CLEAR and CLEAN. This is difficult to articulate and only a more experienced cannabis patient might be able to interpret what I mean by 'clean/clear high' vs. omnipresent fogginess. But it just allows you to go on with your day and focus on the things you get done.
The following are notes that I kept while I was medicated with Lemon Candy:
I had five puffs of the Lemon Candy which has been in jars since September 20, that was roughly a month ago. The smoke is now very smooth, however, there is a bit of bitterness in the aftertaste. I know this is not because of the strain, it has to do with the fact that I overfed this plant not only once, but twice, during its grow cycle. Also, I'm being REALLY picky here, but I am a self-admitted cannabis nerd.
When I ground up the flower, I noticed how airy these mega buds are. Don't get me wrong I'm not complaining, but this just tells me that I didn't even tap into the full potential of this beautiful Lemon Candy cultivar. Exotic Seed has a winner at its hands, there is no doubt. Anyway, I know since I'm growing my next Lemon Candy in living soil, I won't have to worry about inadvertently inducing intoxication due to overfeeding anymore.
Alright, I feel clear headed and focused, but my mind wants to go fast. However, not in a racy-weird, uncomfortable way – I don't feel anxious at all (but I did before I smoked). I feel very centered and balanced, despite the strong effect which goes straight to the head. Typing is difficult, even though my mind is clear, it just seems to be ahead of me and wants to move on to the next thing.
Physically, I feel light and comfortable. Not tired at all, but also no urge to go outside and paint the deck all of a sudden. I picked up my guitar and fiddled around for a bit. I had done that before, meaning practiced guitar when I had smoked some Lemon Candy and I noticed that it helped me relax while still being focused – which of course helped with my playing. However, I found myself straying off a lot because an idea popped in my head which I then wanted to realize on my instrument. In other words, Lemon Candy gets your creative juices flowing, but it might be a bit difficult if you had to do stoic guitar practice repetitions.
It's funny how you literally feel that high as a seemingly physical presence inside your head. It's as if your brain was put in jelly. Very comfortable, it actually makes me think that this could work very well for treating headaches and migraines (this was later on confirmed by three different migraine sufferers – they assured me that this strain provided fast and long lasting relief).
I feel happy right now, but not silly happy. There it is again, the centered-ness – this strain doesn't push you into any extreme direction. It takes the edge off regarding stress levels without making your anxious/racy.
I can't really tell if the Lemon Candy makes me hungry, because I had just eaten before I smoked. But I don't think it's one of those strains that makes you want to eat the house at all cost! We know those, don't we?!
Had a few more puffs. Still going strong. I ended up eating a little – not binge-ing – and the effect is even stronger now. So, clearly, even though this strain may not seem to be brimming with resin (comparatively speaking), you can't underestimate the effect. I'm having serious issues typing, even though I can keep focus with a little bit of effort. I think actually a task like cleaning a room or so could get easily accomplished while under the effect of the Lemon Candy. More intricate stuff might prove really hard, though.
Emotionally, I still feel just relaxed and overall good. At the same time my mind is wandering from 'project' to 'project' at a fast pace.
Well, I can't speak highly enough of this exceptional strain developed by the good people at Exotic Seed – hats off to you all – , the eclectic Lemon Candy – I didn't know what to expect but I remember seeing the indica/sativa ratio at 45% / 55% which seemed appealing. And boy, it sure did not disappoint. I am very careful with superlatives but this might very well be my favorite strain at this moment, simply because of the omnipresent balance that will soothe your mind and spirit. Excellent use for and during meditation, but that might be different from person to person.
Growing Lemon Candy By Exotic Seed
Considering the amount of stress I put this plant through, I am still amazed by how well she developed. I intoxicated her twice during her grow cycle by inadvertently overfeeding her. On top of that, I change the light in the middle of the grow from 600W LED Viparspectras to an HLG-600H Quantum Board light. Because I had no idea around what I was doing, I had the light driver running at 80% capacity, which in hindsight, turned out to be WAY too much. But all that caused the plant to (even more so her neighbor, the Mangolicious) to stop growing altogether for about 2 weeks.
I'm telling you all this not to make a fool of myself, but to demonstrate that this plant has endured a ton of stress and still did remarkably well, despite the fact that Exotic Seed specifically points out that the Lemon Candy is susceptible to light stress and therefore extra caution is to be used. I just wonder if I really even tapped anywhere near the full potential of this strain.
Also, be careful with feeding nutrients. There is nothing wrong if you do that, well, you might have no choice anyway (I am growing in Living Soil at this point which takes nutrient issues out of the equation altogether), but go with half of what the manufacturer tells you. It's VERY easy to scale upward, you can always introduce higher EC/ppm values but take it easy as you start your Lemon Candy plants.
Lemon Candy Cheat Sheet – Top 10 Facts
Medically Useful? Yes, 100%. Helps effectively with nausea and pain. And headaches & Migraines!
Very easy to dose and to control the level of your High. Perfect if you want to stay active.
Earthy and fruity taste – best when cured properly!
Easy to grow, but avoid light stress and nutrient toxicities.
The buds grew large but did not develop large amounts of 'visible' resin (deceptive!)
Does well with scrogging and super-cropping.
45% indica / 55% sativa.
Can make you tired when you take a lot.
Super BALANCED! Clean and clear high, even though strong. Good for zeroing-in and getting things done.
Gets better with curing – I strongly recommend that you cure for at least 2 weeks. My personal preference is 3 months, but that might be a bit extreme…;-)
Another patient who is currently dealing with a Stage 4 breast cancer confirmed to me that the Lemon Candy is the strain that helps her best dealing with chemo-induced nausea and pain. And with all the anxiety that comes with it. She was so thankful for this cultivar because it helped her both, from a physical and mental perspective.
Okay, if you have any questions that weren't answered, feel free to leave a comment. I hope you found my review of the Lemon Candy helpful. It certainly became one of my favorite strains because of its balance and efficacy when it comes to treating a variety of medical conditions with a high-grade cannabis cultivar.
how do I grow Lemon Candy strain?
Choose a suitable location: Cannabis sativa plants require plenty of sunlight and warmth, so it's important to pick a location that gets at least six hours of direct sunlight per day. They can be grown indoors or outdoors, but outdoor locations are more susceptible to weather changes.
Choose the right soil: Cannabis plants thrive in rich, well-draining soil. You may want to add some compost or other organic matter to the soil to improve its nutrient content.
Germinate the seeds: Before planting the seeds, it's best to germinate them first. You can do this by placing the seeds in a damp paper towel and keeping them in a warm, dark place for a few days until they sprout.
Plant the seeds: Once the seeds have sprouted, you can plant them in the soil about 1-2 inches deep. Water them well, but be careful not to overwater them.
Provide proper lighting: In order to grow healthy cannabis sativa plants, they need plenty of light. If you're growing indoors, you'll need to provide artificial lighting with a timer to simulate natural sunlight.
What is special about Lemon Candy strain?
Lemon Candy is a popular cannabis strain known for its sweet and tangy lemon flavor profile. This strain is loved by many for its uplifting and energizing effects, making it a great choice for daytime use. It is also known to produce a creative and focused high, making it a favorite among artists and creatives. Some users also report feelings of euphoria and relaxation after consuming Lemon Candy. Overall, Lemon Candy is a versatile and enjoyable strain that is sure to delight any cannabis connoisseur.