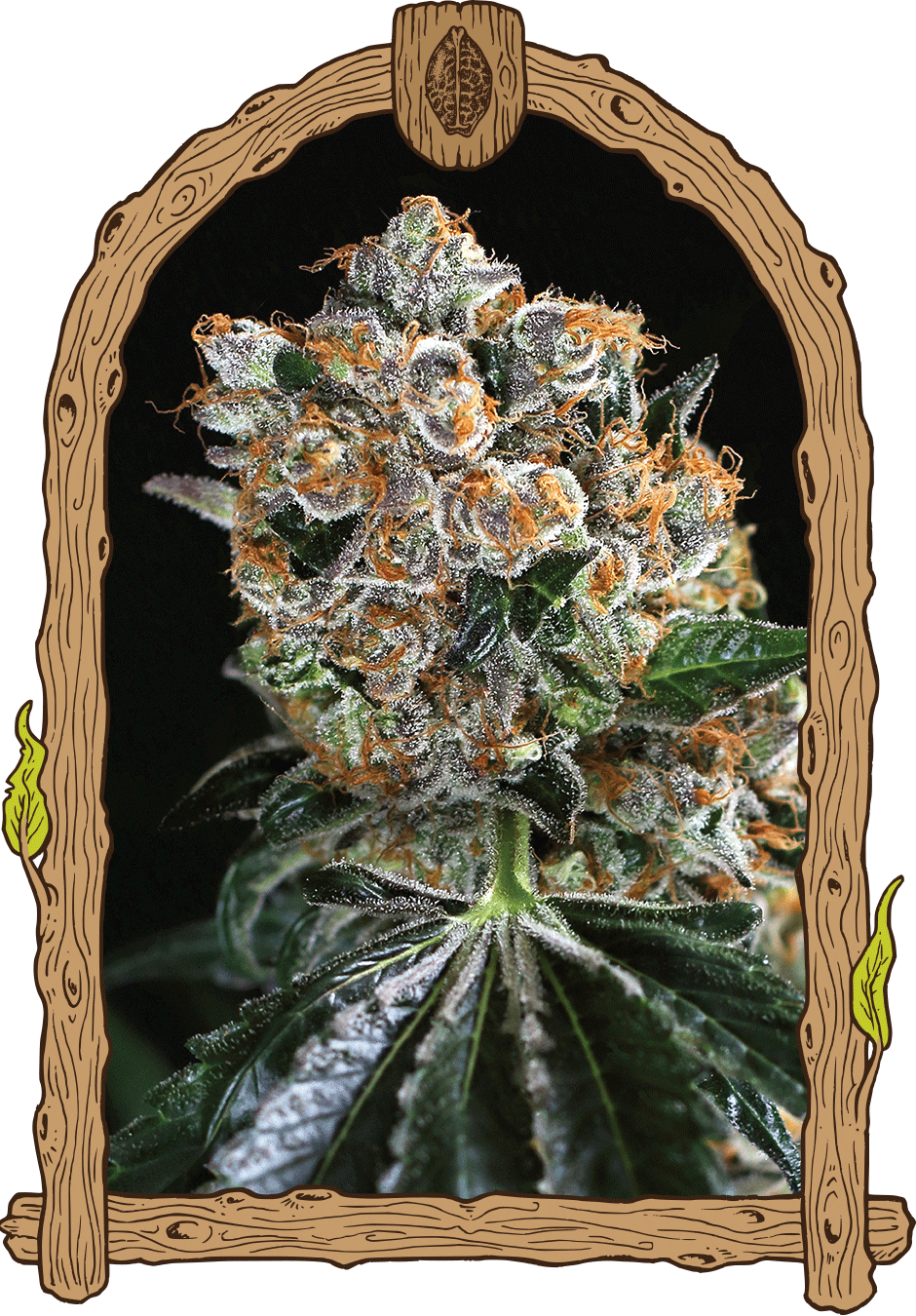 Indica / Sativa

70% Indica /30% Sativa

Effect

Relaxed

Genetics

Thin Mint Cookies x Herz OG

Yield

450 - 500 G/M2

Outdoor Harvest

Harvest October

Potency

Very High

Flowering time

8 Weeks
Malasaña Cookies Strain Description
Malasaña Cookies is our 'Exotic Lemon Cookies strain', it is an Indica dominant hybrid result of the crossing between our Thin Mint Cookies motherplant and an elite clone of the Herz OG strain.
The Malasaña Cookies strain is a special, very productive and resinous plant with purple flowers at the end of the flowering time, with a very powerful effect that you will not forget, and having very high THC values.

This exotic cookies strain's aroma is very complex, it smells like lemon cookies fresh out of the oven in some cases and fresh lime in others, something very complicated to describe, but that we fell in love with from the first time we grew it.

Its resin is abundant and of very high quality, which makes this hybrid a very interesting strain for extractions lovers, achieving generous returns with a unique terpene profile.
Frequently Asked Questions
What is the Malasaña Cookies strain?
The Malasaña Cookies strain is an mostly Indica strain by Exotic Seed. This hybrid strain is a cross between an elite clone of a male Herz OG and a female Thin Mint Cookies strain.
The Indica-dominant plant carries the best features of both varieties and is only available as feminized seeds. Malasaña Cookie strain is a primarily Indica dominant strain with high levels of THC and a complex aroma.
This exotic lemon scented cookies strain is famous for its bud yields up to 500gm/m2 indoors. When grown in an open area, the yields can go as high as 650gm/m2.
Genetics: Thin Mint Cookies x Herz OG
Sativa/Indica: 70/30%
Sex: Feminized
What is its growing phase of Malasaña Cookies seeds?
The Malasaña Cookies strain carry an indoor flowering period of eight to nine weeks, after which the plant is ready for harvest.
Consumers growing marijuana for the first time can pay attention to its trichomes and look for any colour change. This will provide vital information regarding the bud's ripeness. The plant is ready to cultivate if the trichomes turn amber.
October is the ideal harvesting period for users cultivating Malasaña Cookies seeds in open ground in the northern hemisphere. This harvesting period changes to early April in the southern hemisphere.
Even though this Indica-dominant strain can withstand pest attacks and cold weather conditions, outdoor growers must still protect it against infestations
What yield can I expect?
Malasaña Cookies seeds takes about eight weeks from germination to harvesting when grown indoors. An ideal indoor growing environment can yield 450-500 gr/m2.
In contrast, outdoor flowering results in much higher yields of up to 650g per plant. Besides, the plant is tall and can grow up to 2.5m in height if cultivated outdoors.
Malasaña Cookies is a very productive plant producing high-quality, potent resin-rich buds. Its sedative effect is more intense and long-lasting when the color turns to amber. These features made this hybrid strain an exciting and attractive choice for beginners and experienced alike.
What about its Appearance and Aroma?
The Indica-dominant plant resembles a thriving Kush structure. The flexible branches are close to the main stem and can double during the flowering phase.
Cannabis lovers are guaranteed to fall in love with the unique terpene profile delivering a complex aroma. The Malasaña Cookies strain produces THC-rich buds that acquire a purple tone. Underneath the swollen buds is a frosty, white resin for a delicious feel.
Like its scented predecessors, our Lemon Cookies strain presents an intense aroma, containing a perfect blend of lemon cookies and fresh lime. This exotic cookies strain' herbal fragrance is elevated by an earthy nut-like scent, adding a classic touch to this potent plant.
How about its tasting notes and effects?
Flavours highlight concentrates rich in terpenes inherited by its aromatic parent strains. Consumers will enjoy its complex taste resembling honey and, in most cases, freshly baked cookies. This mixture creates a perfect blend of sugar-rich lemony banquets.
Our Exotic Lemon Cookies strain deliver intense, long-lasting effects when inhaled. Thanks to Indica dominance, the plant carries high THC content, providing powerful psychoactive effects. Moreover, a slight Sativa influence ensures the strong high diminishes with time, and users can enjoy overwhelming body relaxing effects.
It's vital to note that consuming Malasaña Cookies increases appetite, so keep food at hand while enjoying this delicious strain.