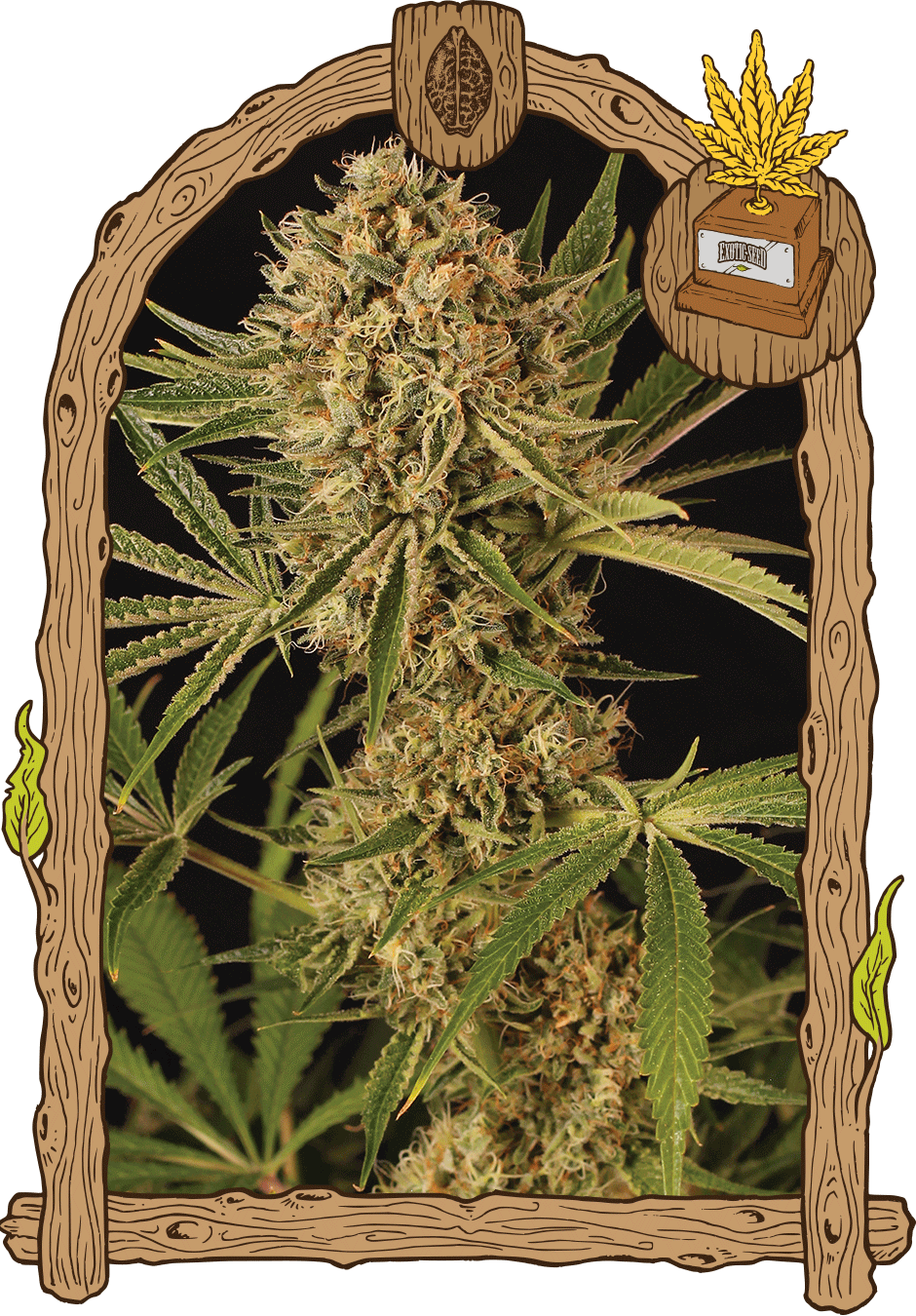 Indica / Sativa

60% Indica /40% Sativa

Effect

Relaxed

Genetics

Larry OG X Kosher Kush

Yield

400 - 450 G/M2

Outdoor Harvest

Harvest October

Potency

High

Flowering time

9 Weeks
Herz OG Strain Description
Herz OG is finally back!
Only most advanced smokers, herbalists and patients may try this tantalizing, bitter-sweet symphony of Larry OG x Kosher Kush as a result of a cooperation with fellow German rap artist Herzog.
Herz OG has a very deep aroma and flavor with hints of fresh wood, pine and honey.
The effect is really strong. It feels like a kick in the chest dropping you heavily on a cloudy cushion of concret.
Prepare to get high like the first time again.
©HERZOG
Frequently Asked Questions
What is Exotic Seeds Herz OG?
Exotic Seeds Herz OG is a signature strain of Larry OG x Kusher Kush, created together with a German rapper and artiste. It has a powerful aroma and flavor with a slight taste of fresh wood, honey, and pine. It's a feminized plant with a maturation period of 60 – 70 days (or nine weeks) when grown indoors, while it's harvested around mid-October when grown outdoors or in your garden. When fully harvested, it can yield about 400g to 500g per m2. The indica is about 60%, while the Sativa is about 40%. The Herz OG produces physical relaxation for your body.
What is the Growing Cycle Of Herz OG?
It takes approximately 7 - 9 weeks for the Herz OG to be fully mature for harvesting and yield up to 400g to 450g per square meter. It can be grown indoors and outdoors.
The Herz OG grows medium and is easy to grow, with strong resistance. It comes in strains of strawberry auto and big bud auto. It's an excellent choice for inexperienced growers in search of real quality. It boasts of high-quality yield.
For maximum indoor yield, the Herz OG needs a high intensity of artificial light. For outdoor production, allow the Herz OG to have enough sunlight, and you can be sure to get an excellent yield.
What does it look like?
Herz OG is a feminized marijuana seed by the Exotic Seeds family. It has two look-alike phenotypes. It displays healthy dark green leaves that emit a great aroma and leaves a wonderful taste on your palate.
Its appearance is like a cluster of beautiful cup-shaped lush green leaves, with sparks of yellow/purple mix that make it look like a household flower in a flowerpot. It's a beautiful plant to behold. Whether cultivated indoors or outdoor, it's sure to make a statement. It's a must-grow plant.
The observable physical properties of the Herz OG are its outlandish looks, with having a glowing flowering and impressive appearance.
How does it taste?
The Herz OG has a powerful aroma of fresh wood, pine, and honey. Some describe its smell as a 'forest spirit smeared in honey.' If you are familiar with its smell, you can distinguish its aroma from some distance away. It has a unique taste that makes it stand out among other strains. It has a fruity sweet taste with a lot of nutrients. When inhaled, it leaves a honey-like taste in your taste bud.
It has a bitter-sweet taste and an irresistible symphony of Larry OG. It has a powerful effect on the user, and it's sure to give you a heavenly experience you always wanted to have, the type you had on your first day of trying it out.
What are its Effects?
The Herz OG can produce a stronger relaxation effect and might help with insomnia. Its strength works more in the full-body, unlike Sativa, which produces a head-high effect that can energize and invigorate your brain. Thus this strain can help reduce anxiety and increase your creative ability and focus.
The Herz OG can make you feel deeply relaxed, happy, and sleepy. This product is a headbanger.
When used before bedtime, it can induce sleep. It can relieve arthritis, back pain, and several other stress-related health benefits.
German Musical Artist Teams with Seed Company
Discussion of Herz OG Growing & Buds
Berlin-born rap artist Herzog told us he was a major cannabis seller before he became a musical artist. And there's one thing I'm sure of: if he was still in the cannabis retail business, Herzog would be selling Herz OG, one of the most potent strains offered by European cannabis seeds breeder Exotic Seed.
Herzog and the Exotic Seeds breeding crew worked for three years in the collaboration that produced Herz OG, which won a prize as a top-ranked Indica at Spain's Spannabis expo, and is heaven for people who love Kush cannabis.
The strain is a cross between two beloved Kush varieties, Larry OG and Kosher Kush. Larry OG is a cross that includes San Fernando Valley OG, one of the most sought-after California heritage Kush strains.
Kosher Kush has been popularized by DNA/Reserva Privada seeds and is said to have originated from a Southern California clone-only strain grown by Jewish growers who called it "Jew Gold."
The Reserva Privada crew paid a high price for a prime Jew Gold clone, and changed its rather offensive name to Kosher Kush.
The Kush genetics that went into Herz OG are lineage genetics displaying the dark-green leaves, powerful scent and taste, hardiness, and high yield some Kush strains are famous for. It has two phenotypes that closely resemble each other. One is slightly shorter and faster-finishing than the other, with thicker buds.
https://www.youtube.com/watch?v=TWMutN6PdBY
I put Herz OG plants into 12-hour bloom phase 29 days after they germinated and used a moderate-strength feed program because I had a bit of leaf tip burn from overfertilizing early in bloom phase.
By day 39 of bloom phase I saw the buds would be very thick and dense with resin glands. This led me to implement my anti-gray mold program. Gray mold (botrytis) likes moisture and nitrogen. It can destroy a garden full of buds in a couple of days.
My anti-gray mold program includes using dehumidifiers to keep grow room humidity between 50-55% starting in peak bloom. I water less than I normally would, using less water. I use my hydroponics nutrients in such a way that they provide 50% less nitrogen than even a usual bloom phase base nutrient feed program would have. I examine the interior of buds with a magnifying glass several times a day and make sure my grow room stays closed to outside contamination from mold spores. This program is the best you can do to fight gray mold.
Herz OG buds swell up and fill in more than typical OG Kush strains, which tend to develop rock-hard "popcorn" buds rather than fat, longer buds that Herz OG produces.
In bloom phase, bud aroma is somewhat similar to typical Kush aroma, with influence of pine, pepper, and bit of citrus dominating the scent menu. During consumption, the pine flavor is the most pronounced one you taste.
Herz OG's overwhelming body effects are accompanied by Sativa uplift provided by genetics from the Larry OG component of this impressive hybrid. Larry OG has Thai Sativa and Chemdawg genetics on-board.
Herz OG isn't the kind of cannabis I consume in the morning because it's very strong and has a major sedative effect. Its effects are great for getting a massage, having sex, doing yoga, meditating, swimming, being in a sauna, or lying on your back looking up at starry skies.
It's also a useful medical cannabis strain that erases pain from arthritis, back injury, anxiety, tremors neuropathy, and similar ailments. People who suffer from insomnia should have no problem sleeping if they inhale this strain before they want to sleep.
As with most Kush strains, Herz OG isn't for first-time marijuana growers. I recommend growing it indoors, although it could be successfully grown outdoors in places where late summer and autumn have lots of sun, adequate rainfall, and low humidity. Growers with past successful experience growing Kush and other cannabis strains should be easily able to provide the right environment, lighting and feed program that brings out the best in this kind, exemplary cannabis strain.
One final note…you may never have heard of Exotic Seed company. They're based in Europe, and have won dozens of awards at cannabis competitions there. I've grown their strains and those strains are more reliable, viable, interesting, and potent than strains from well-known cannabis seeds companies. Check out this page about their delicious Mango strain. When you procure Exotic Seeds genetics, you're doing your grow room and head a favor!
What are the best grow conditions for HERZ OG Cannabis seeds?
To grow Herz OG cannabis seeds successfully, you will need to provide the following growing conditions:
Light: Cannabis plants require a lot of light for healthy growth. Provide your plants with at least 18 hours of light each day during the vegetative stage and 12 hours of light each day during the flowering stage.
Temperature: Keep the temperature between 68-77°F (20-25°C) during the day, and 60-70°F (15-20°C) at night.
Humidity: Maintain a relative humidity level of 50-60% during the vegetative stage and 40-50% during the flowering stage.
Soil: Use nutrient-rich soil that drains well, and add organic fertilizers to the soil before planting.
Water: Water your plants when the top inch of soil is dry to the touch, and avoid over-watering.
Air circulation: Use fans to ensure good air circulation and prevent the growth of mold and other pests.
By providing these optimal growing conditions, you can increase your chances of producing healthy and high-quality Herz OG cannabis plants.