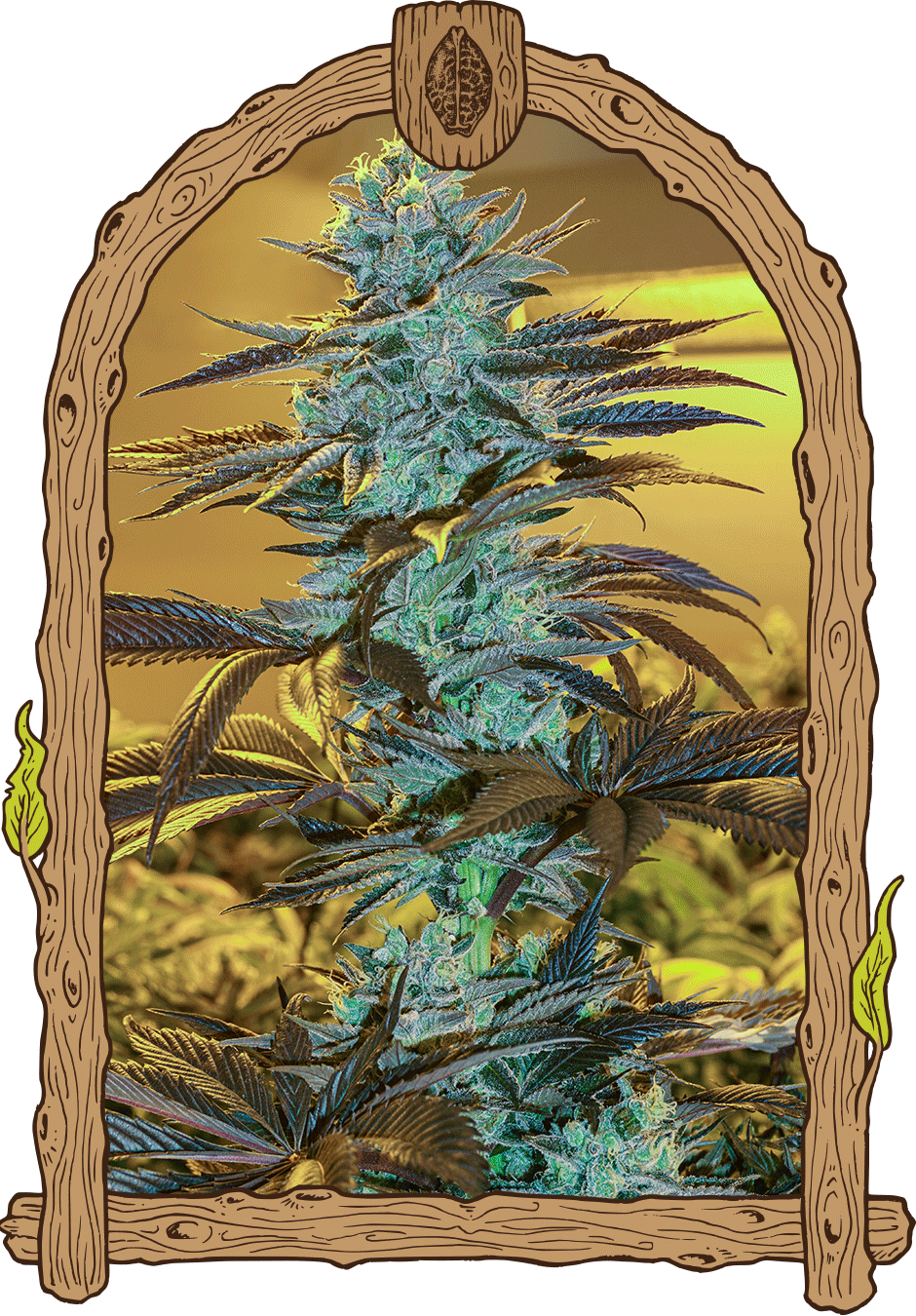 Effect

Relaxed

Genetics

(Blue Monkey x Black Lemon Auto) F5

Yield

400 - 450 G/M2

Potency

Medium - High

Flowering time

10 Weeks
Purple Monkey Auto Strain Description
Purple Monkey Auto bases its genetics on the crossing of two genetics much loved by us, the Blue Monkey strain and the Black Lemon Auto strain.
After several generations where we were selecting the individuals that were closest to what we were looking for, in Purple Monkey Auto you will find plants with a size above 100 cm in height and a production that will range between 400 and 450 grams per square meter, where you will see flowers of purple and reddish hues.
Its aroma is very complex and characteristic, reminding us of lemon mixed with a chemical cleanser, and its effects are mainly relaxing, perfect for those who want to disconnect after a long day.
Frequently Asked Questions
What is Purple Monkey Auto?
Purple Monkey Auto strain by Exotic Seed is a trendy Ruderalis/Indica/Sativa variety available only as feminized seeds. This auto-flowering hybrid strain is a cross between two of the most loved strains, Blue Monkey and Black Lemon Auto.
The Indica-dominant plant is stabilised over five generations, allowing growers to enjoy the desired traits. Besides, the growing process is quick and smooth, with rewarding yields within ten weeks.
This hybrid beauty delivers calm, relaxing effects, relieving them of worrying thoughts. Moreover, consumers can feel extra friendly with a burst of eagerness to spend quality time with friends.
Genetics: (Blue Monkey X Black Lemon Auto) F5
THC: Medium
Sex: Feminized
What is the growing phase?
Purple Monkey Auto is a productive strain that is easy to grow for novices and advanced users. Besides, the plant can thrive well in indoor and outdoor environments, thanks to its robust genetics.
Growers will find that this auto-flowering variety grows better in warm and dry climates. This is vital information when considering indoor or outdoor growth.
This Purple Monkey strain has a decent flowering time, with the plant taking up to 70 days (or ten weeks) from seedling to the harvest.
Remember to keep the plant away from frost at all times as it can impact the bud's maturity time and yields.
What yield can I expect?
The strain reaches the end of its flowering phase by mid-October, after which it is ready for harvest. Moreover, beginners will find the plant relatively easy to maintain than other varieties.
Under favorable growing conditions, Purple Monkey auto strain produces quick and satisfying yields of 14 ounces per plant, or 400–450g/m². The entire plant structure is compact and can reach up to one metre. Besides, the Indica-dominant variety fits easily into tight slots without dominating the growing area.
Grow this hybrid flower once, whether under artificial or natural conditions, and you won't be able to take your eyes from the buds.
What about its Appearance and Aroma?
The plant produces large, resinous buds once it reaches maturity. Growers will also notice fleshy flowers with purple and reddish hues. These flowers appeal to many consumers, adding beauty to their numerous other traits.
Do spare some moments to appreciate the beauty of this hybrid strain.
In terms of Purple Monkey strain's aroma, growers might have a hard time hiding its overpowering scent, a mix of lemon and a chemical cleanser, similar to detergent. Others might also find the aroma carries reminiscent of diesel, filing your grow room with a complex fragrance.
Grow this beautiful strain yourself, and let us know what you think of its aroma.
How about its tasting notes and effects?
Purple Monkey Auto offers something unique with its tasting notes. The flavours carry strong citrus notes blended with some natural ones, similar to those of chemicals.
In addition to its unique flavours, this Indica-dominant strain is perfect for unwinding after a hectic day at work. Smokers and vapers are in for an enjoyable experience with its not-so-high THC content. The medium potency offers intense, relaxing effects, making it an ideal strain for unwinding and disconnection.
Moreover, consumers will enjoy its sedating effects, bringing calm to their minds and bodies. Perhaps, you can dwell in some deep conversations with your friends and family.